Who knew puff pastry is SO good! Remember
when I tried this before with phyllo dough
? I didn't think it was all that bad but compared to this...I'll never do it the wrong way again! These were so very good. Definitely a keeper.
Thaw a box of puff pastry. You'll need two sheets. And just so you're aware, it takes longer than 40 minutes to thaw, like the box says.
Roll one sheet of puff pastry out to whatever size pan you'll be using to put it on. Top with ham and cheese. I used leftover ham from Christmas but deli ham would be fine too. Swiss cheese was our choice but you could use whatever you like. Roll out other sheet of puff pastry and place on top. Seal sides with egg wash and also coat top with egg wash.
Bake at 450 degrees for 20 to 25 minutes, until brown and puffed up.
**You could spread the pastry with mustard before you put the ham and cheese on but we chose to leave it off and just dip ours in the mustard as we ate it. We used honey mustard and it was delicious!
This post is linked to:
It's a Keeper Thursday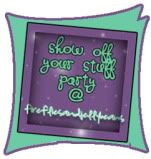 Tip Day Thursday